This Page Will Show The HUGE differences Between Powerhouse
Construction Both In The Types Of Materials We Use And The
Methods Of Construction SEE FOR YOUR SELF NOTHING ELSE
COMPARES TO THE QUALITY AND DURABILITY OF A
PERFORMANCE LUXURY COACH FROM POWERHOUSE

We start by working directly with our customer on there floor plan &
coach design . Everyone has different needs & wants by planning a build
right at the ground level this can be done . Builds will vary from one of our
many standard floor plans that are personalized with different woods, counter top,ultra leathers ,furniture , sleeping setups, clear to a fully custom floor plan design . In some cases we start with a blank page and design every aspect of the coach . We are currently building 3 mobile medical lab units and a rolling bunk house sleeping 35 for a professional hockey team. Currant production is about 8 to 10 units per year and actual building time runs about 7 months . These are custom hand crafted rigs and take HUGE amounts of man hours to complete but the results are unmatched in the RV industry . We can do about anything and give you MORE value for your dollar than you will find anywhere else.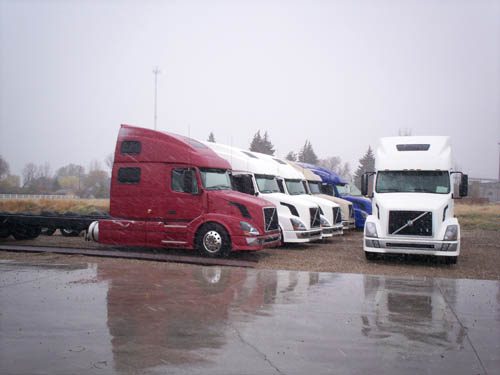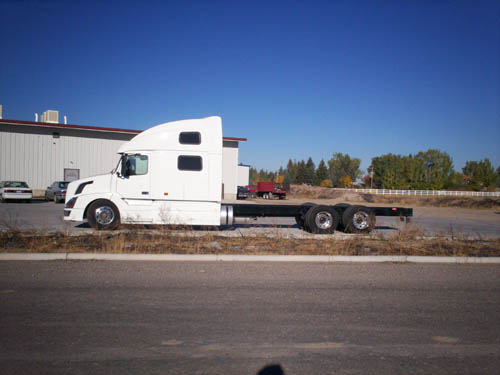 We firmly believe that Volvo produces the best, safest,& quietest class 8 semi truck chassis and build on Volvo almost exclusively . In many cases depending on a customer budget we can build on used lease return truck but recommend a new truck for a coach of this caliber . Used trucks that require frame lengthening are doubled and over lapped to eliminate any concerns. New Trucks are specially ordered with a full double frame & many upgraded truck options such as extra batteries alternators ect.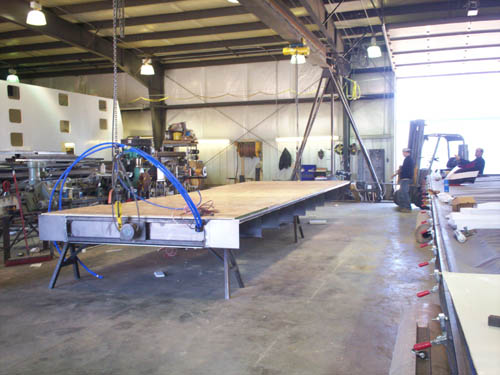 Virtually all of our build start with the building of a second chassis for the coach body to accommodate slide out mechanisms, tanks, wiring, etc. By using this type of construction we have a far stronger unit and give you more basement storage. ALL tanks & lines are heated and insulated as we build with the same urethane foam insulation used by NASA on the space shuttle producing R-7 insulation factor per inch . Not only does this produce a R-35 insulated floor but it holds everything securely in place as you drive. Many problems on RV's are related to things shaking loose. The floor is a 3/4" tongue and groove plywood over 1 inch steel tubing .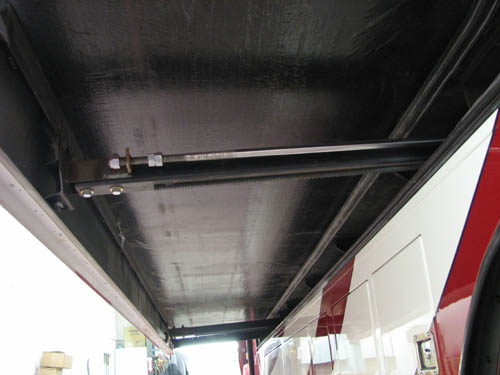 Slide outs are Hydraulic and feature two hydraulic rams and a gear rack system to ensure the slide move in & out evenly & smoothly . Many builders will use cheaper electric movers or move using only one ram per slide . We do not cut corners to save money our goal is to produce the best most durable coach we can and are constantly look for better parts & materials to improve the quality of our products.
If production RV manufactures can save relatively small amounts of money on large volume the guy on the board of directors can buy his 3rd house this year and you can spend your time in the repair shop . We certainly will not tell you you will not have some repairs to do to your Powerhouse ,motor homes are very complex units that move down the road & they will require some attention from time to time and will certainly have a few bugs to work out when they are new . However our warranty repairs are FAR below industry standards . On a 500K coach we will usually see less that 3000 or less than .06% in warranty repair work, industry standard is 2% to 6% . Even though our coaches are some of the most luxurious and innovative built we work hard to keep the systems as basic and trouble free as possible.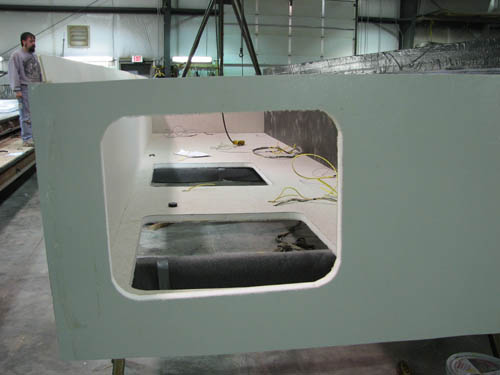 Our walls & slide out rooms are produced in house using the best construction available ( a full vacuum bonded wall ) we even go farther than most manufactures using in most cases twice the glue & 7 inch glue lamb beams around slide out openings again back to that saving money the other guys work so hard at. We use the highest grade of fiberglass and gel coat wall sheeting for the wall exterior and the interior is a vinyl decor type board that is easy to clean and very durable . Metal framing while at first look seems like a great idea isn't really so great. The metal transfers the hot and cold terribly and also produces condensation & mold inside the walls . You may have also herd stories of electrical wiring rubbing a bear spot in a coach wall or roof over time and producing an electrical short that can electrify the entire coach body . Such sorts can be virtually impossible to find and repair . Wood completely fills the wall space and also provides insulation in these framing areas . We do us steel reinforcements in key locations where needed. Wall insulation rating is an R-10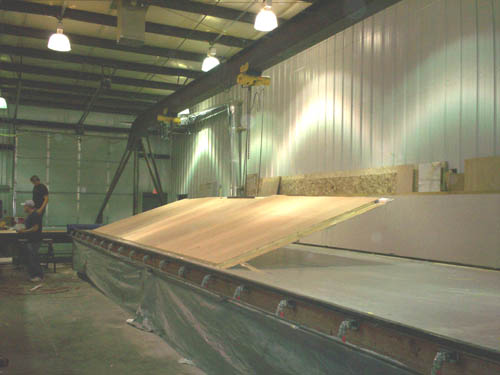 The vacuum bonding table produces 600 pounds per square foot and produces a wall that us UNBELIEVABLY STRONG AND DURABLE.
A 40 foot side wall is lifted from one center point from horizontal to vertical
NOW THAT IS STRONG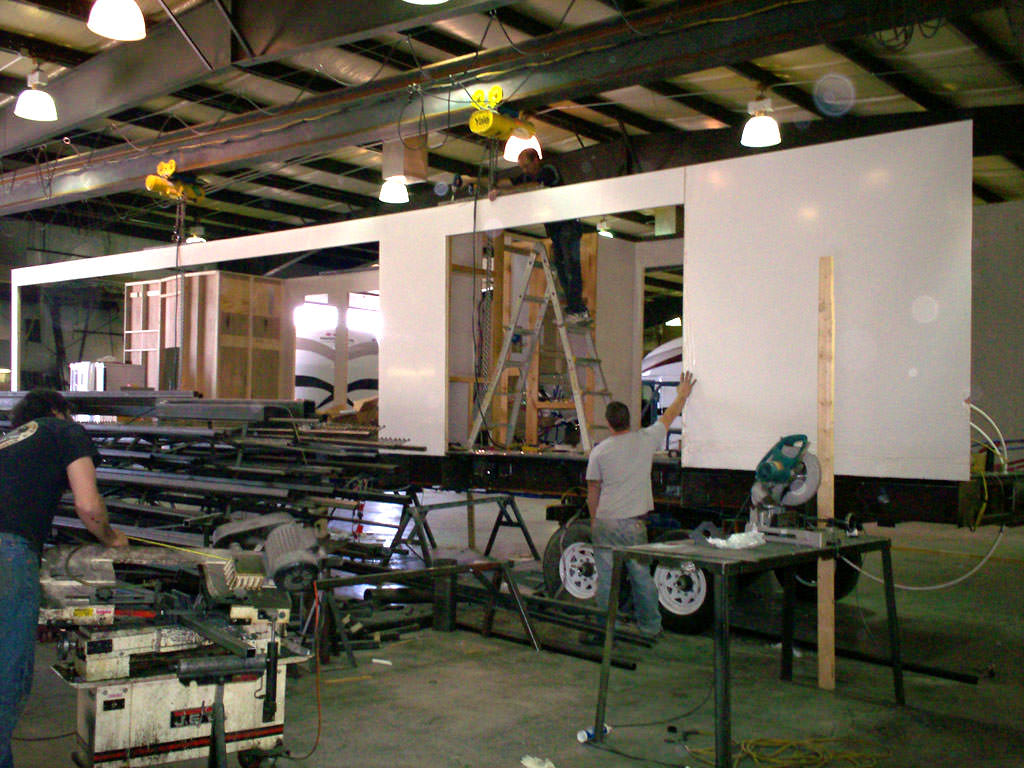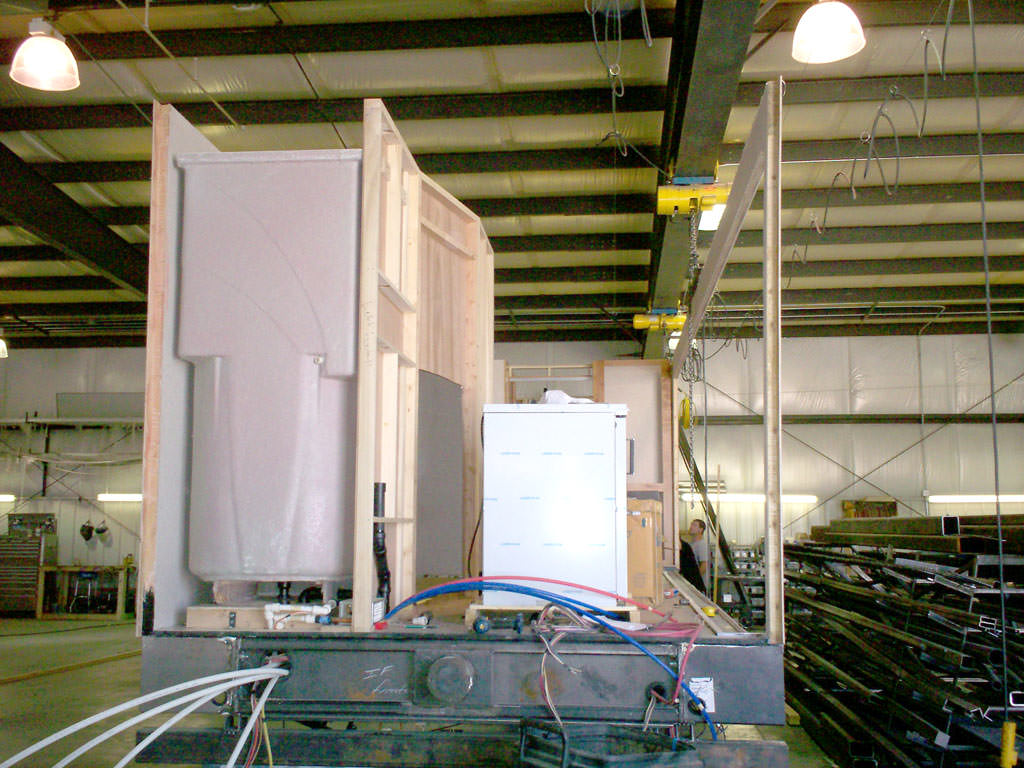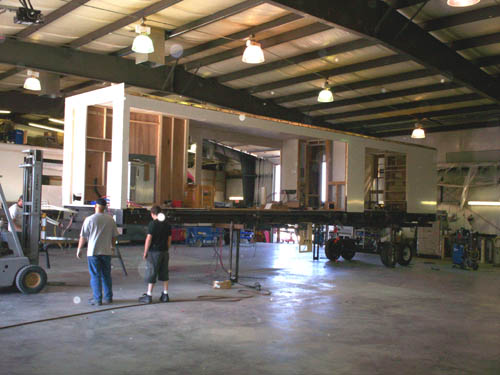 Walls are Lag bolted on 6 inch centers and are captured between the 3/4 sub floor on the inside and the 1/8 plate steel sides coming up over them on the outside . The walls are there to stay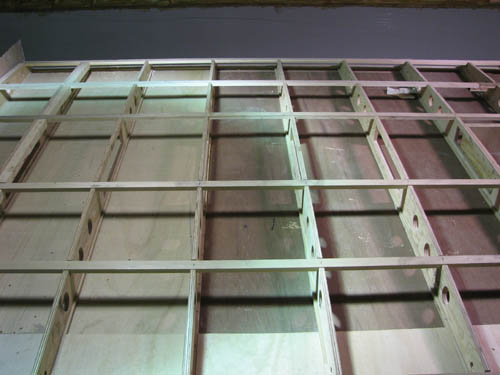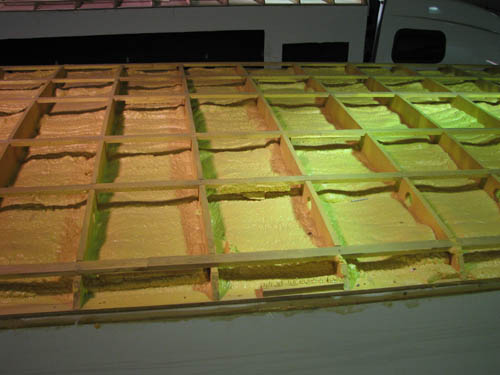 The roof is a 16 inch arched truss system and is then sprayed @ R-7 per inch giving us R-30 to R-35 in the roof also holding everything securely .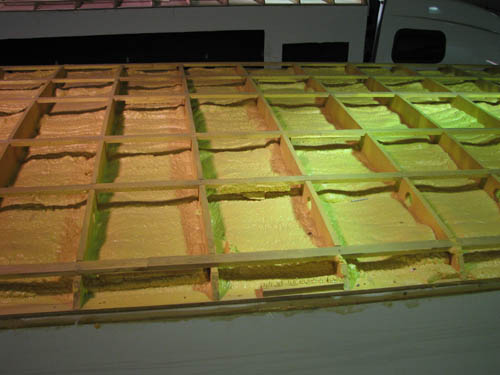 Trusses are then covered with very large sheets of 3/8 plywood we usually only have one seam in the entire roof plywood . This is a very strong WALK ON ROOF. A seamless vinyl rubber type roof with a woven backing is then rolled out and glued over the plywood. Special fiberglass roof radius caps are applied for a nice clean easy care roof . When painting is completed near the end of the build the entire coach is caulked with clear silicone around windows molding ect to produce a water tight coach body shell. With periodic inspection and caulking you will have a shell that will last virtually for ever and will have double the insulation of the typical motor coach performing well in hot or cold conditions.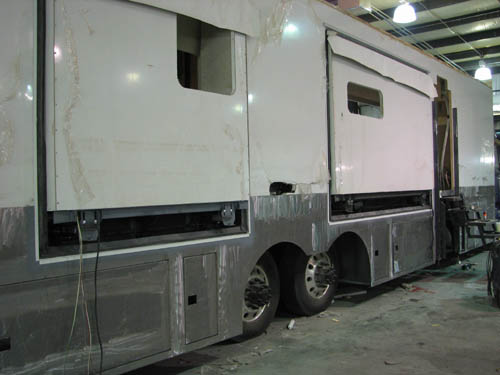 You will not find this type of heavy duty construction Anywhere Else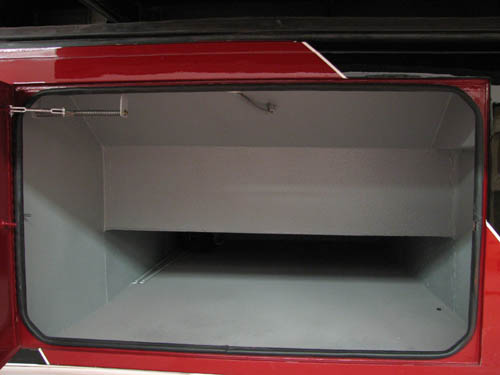 The lower coach body and storage bays are all built from 1/8 inch high quality plate steel . door have stainless steel hinge and are WELDED ON not screwed or pop riveted . This fabricating work is done in house and can be designed to fit your particular storage needs . Storage bays are coated with a two part pickup bed type material that is tough and looks great . At the end of construction the under side of the steel is coated with a VERY high quality commercial under coating product . The Steel construction is VERY, VERY TOUGH .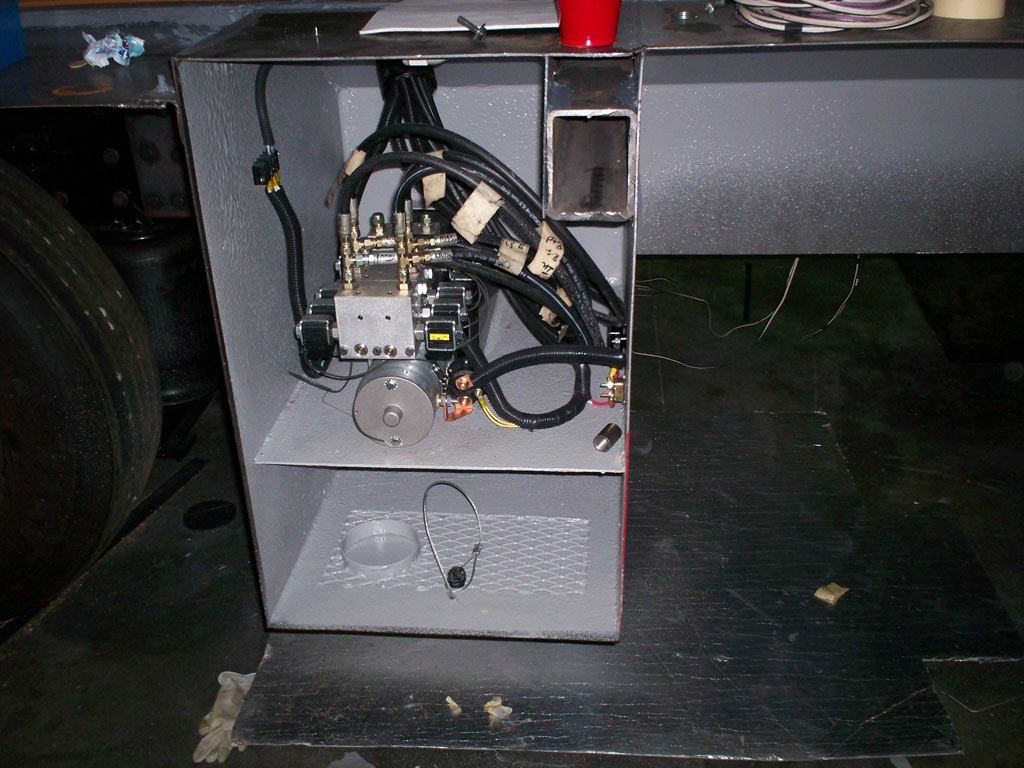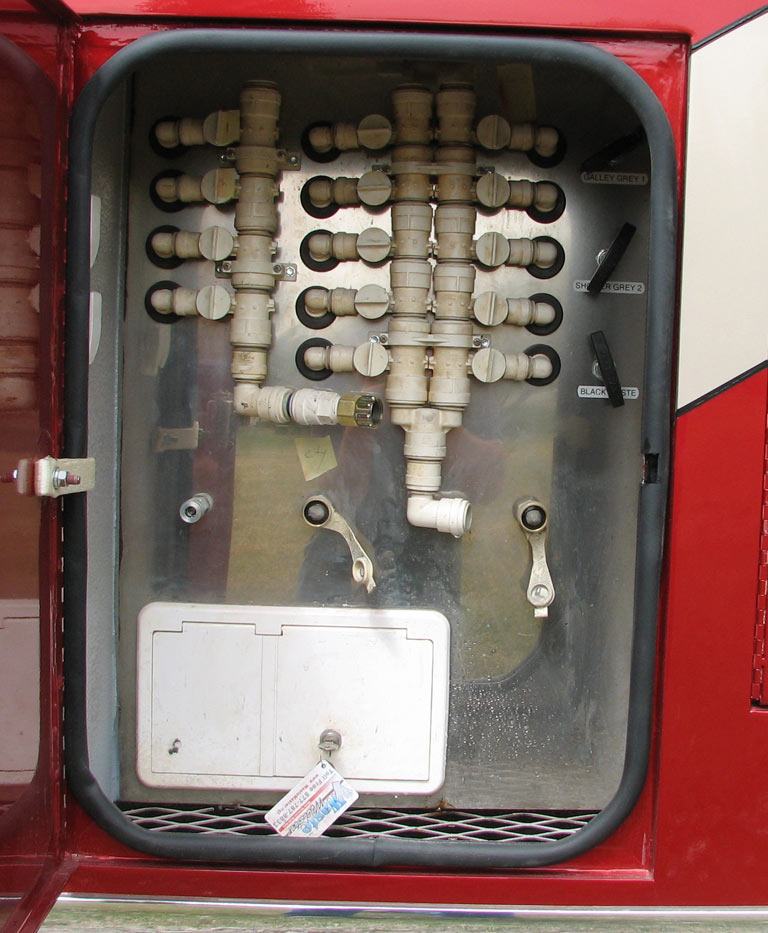 At Powerhouse Coach we use the best quality parts available featuring Sealand water fittings , heavy wall upgraded PEX water lines , upgraded & heavier gauge electrical wiring, heavy industrial grade steel braid rubber hydraulic hoses and a hydraulic pumps 3 times the size of a regular RV.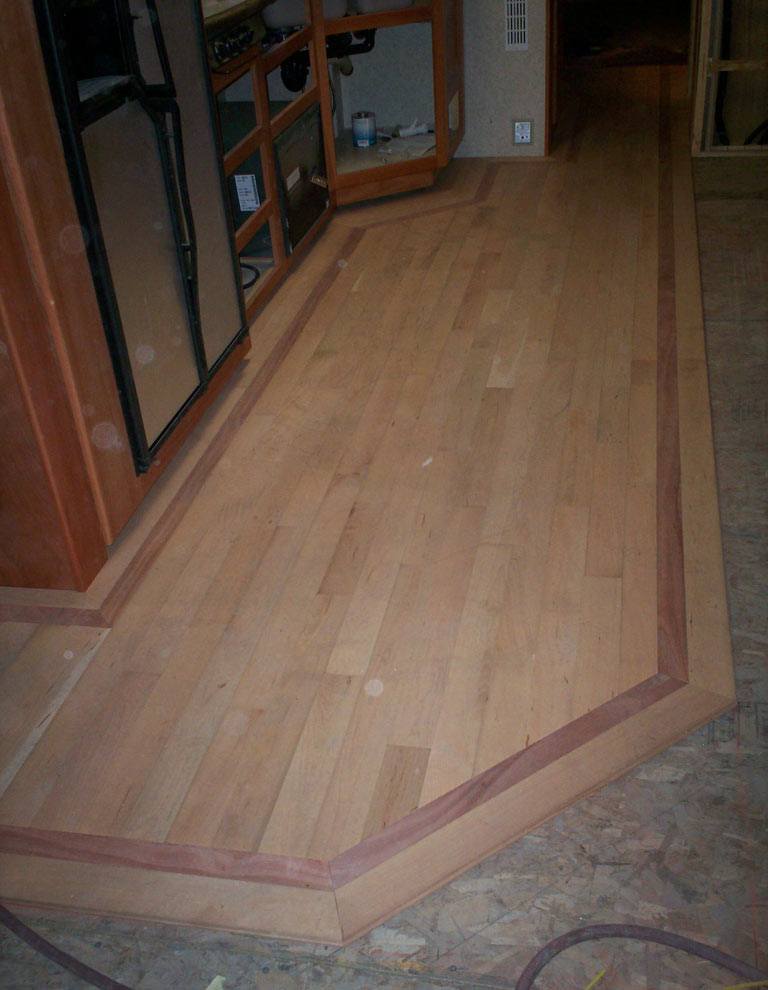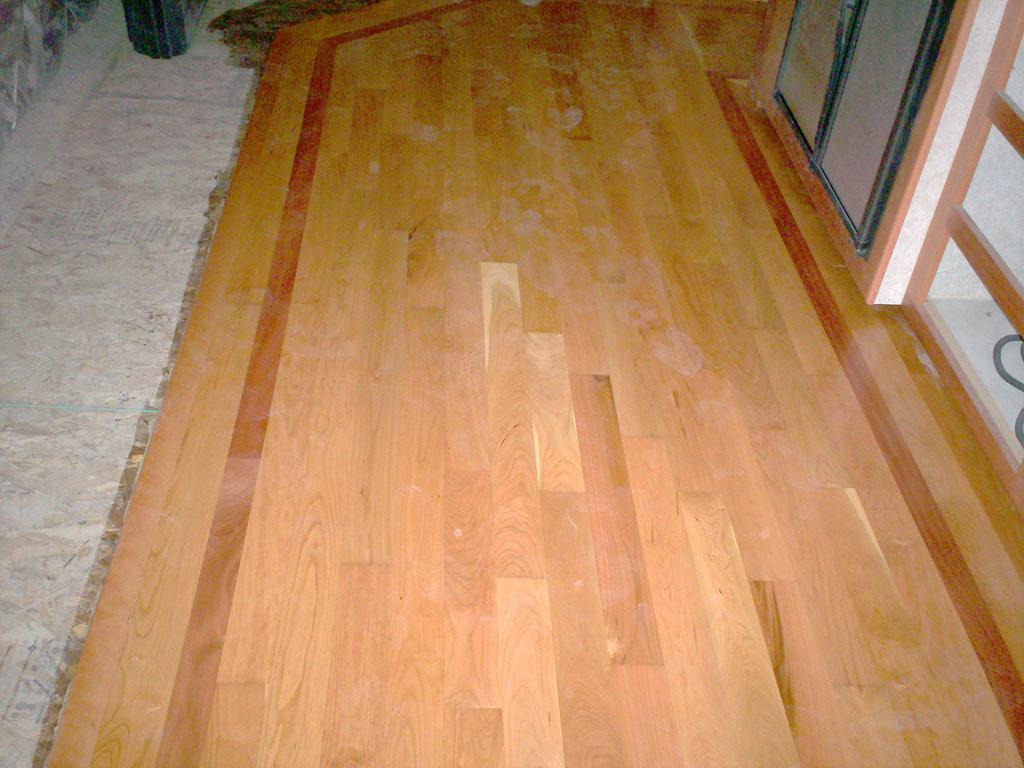 REAL 3/4 Inch Hardwood flooring over a 3/4 sub floor ( this custom show floor is American Cherry with Liptos Inlays ) We specialize in HIGH quality wood working and cabinetry, not particle board covered with rounded formica. Take a hard look @ a 1.5 million dollar bus conversion and you will find that all the round cabinets are nothing more than Formica. Why not have a PERFORMANCE Powerhouse Coach with some real quality construction for half the price? Mirrors & Formica are cheap. I don't get it.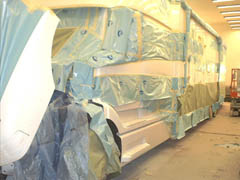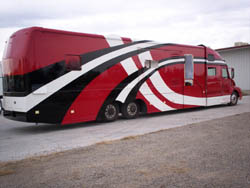 Paint designs are ALL custom one of a kind you will never see any two Powerhouse units the same. These are truly CUSTOM one of a kind rigs.
We work with each customer to design and choose colors that they like.
Our paint process has several steps.
Special acid washed bear steel is ground and sanded after welding minor body work performed for any surface imperfections.
Steel is washed with a metal cleaner and a special acid etch primer is applied.
Etch primer is scuff sanded and box edges are seam sealed.
Several Coats of Two Part Primer serfacer is applied.
Pimer sufacer is sanded to produce a smooth surface.
Two part paint sealer is then applied.
Base Coat clear coat colors are applied.
All striping with the exception of the boarder pin strip is all Painted On.
Colors are Clear coated.
1/4" pin strip is applied to paint stripe edges.
Before delivery the under side of the coach and all underside areas of the steel storage boxes are sprayed with a HIGH quality industrial paint undercoating product to protect it from road spray
Our steel body will require a little more upkeep for paint chips than a typical fiberglass RV storage area but it will be TOUGH and you will not have to worry about the doors falling off or breaking from heavy loads.